When can I use my garden bore?
To help save our precious groundwater and only give gardens the water they need, the following permanent water efficiency measures and exemptions apply to garden bores in WA.
Download pdf Waterwise garden bore use fact sheet
Two rostered watering days a week in Perth
You can use a garden bore on two rostered days a week in the Perth and Mandurah area and on any day for other parts of WA.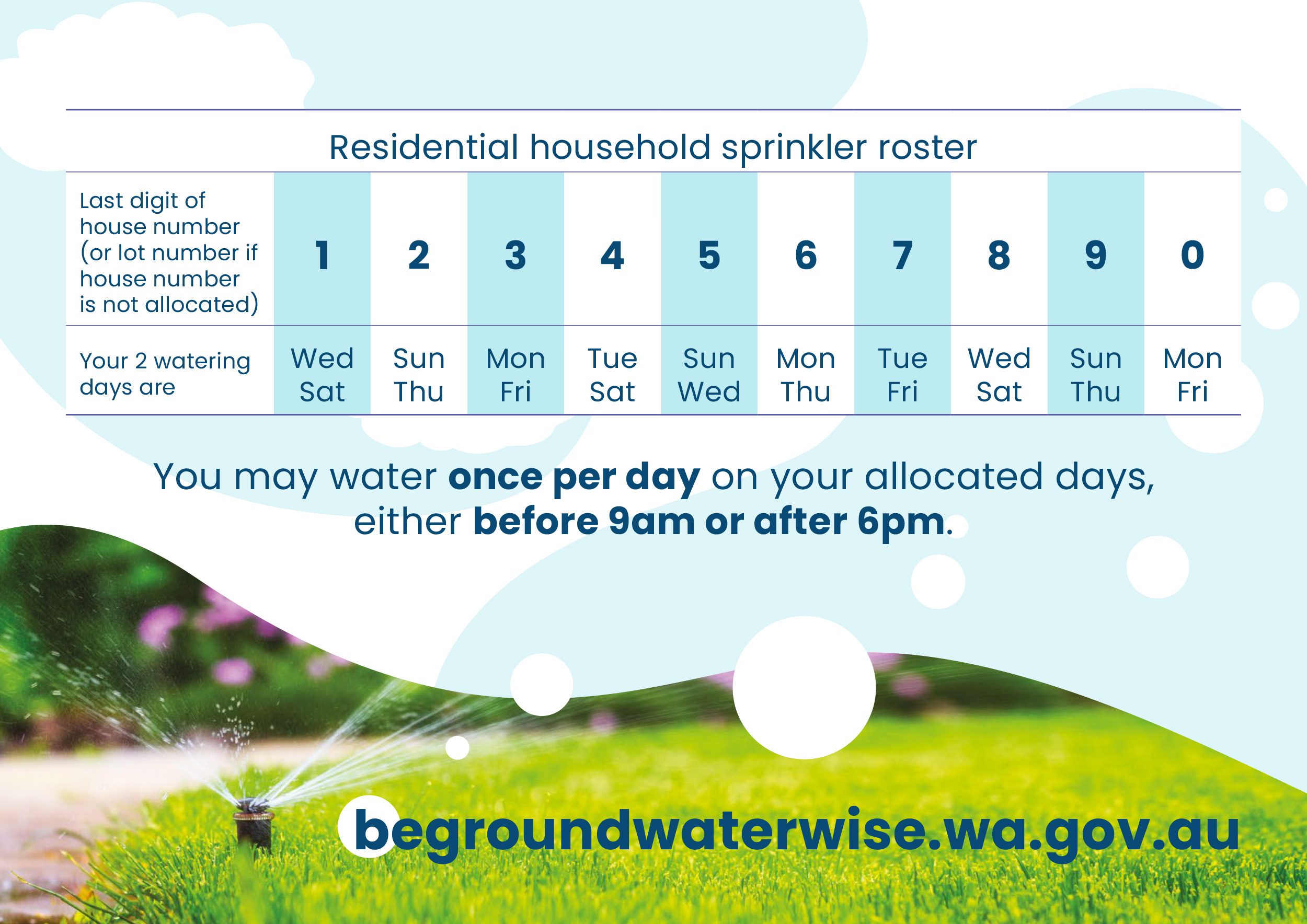 Find your rostered watering days through Water Corporation
Find out more about the sprinkler roster
Find out more about the change to the roster for Perth and Mandurah in 2022
Find Water Corporation's Waterwise offers to help you adapt to two watering days a week
Read Irrigation Australia's fact sheet with great tips to help you achieve a healthy waterwise garden on a two-day watering roster.
You can use your garden bore once on a rostered day, either before 9am or after 6pm.
This reduces the amount of water lost through evaporation.
You must not use sprinklers from 1 June to 31 August each year in Perth and the South West.
Your garden already gets enough water during this period thanks to winter rain and lower evaporation rates.
Automatic exemption for maintenance
You may use your garden bore and sprinklers while the system is being installed, maintained, tested or repaired, to the minimum extent necessary.
We recommended a maximum of two minutes per station and to carry out work on your sprinkler roster days, before 9am or after 6pm.
Find out more about automatic garden bore maintenance exemptions
Register shared garden bores
If you share a bore and the irrigation system won't allow you to water only on your rostered days, you can register the bore to avoid an infringement.
Report a breach in sprinkler use in Perth
Help save groundwater in Perth and report a breach in sprinkler restrictions.
Anyone found using a garden bore in breach of sprinkler restrictions can be fined $100. In Perth this includes the daytime, two-day-a-week roster and winter restrictions.
Report a sprinkler restriction breach on Water Corporation's website
Bushfire risk areas
Households can seek an exemption from the two-days-per-week sprinkler roster if they do not have access to scheme water and are located in a Department of Fire and Emergency Services Bushfire prone area.
Check if you're in a bushfire prone area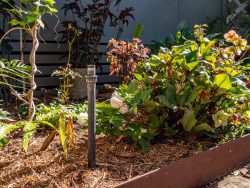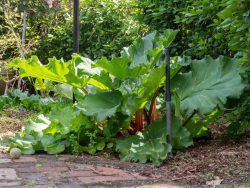 Small-scale garden watering exemption
In Western Australia, garden bores do not need to be licensed if they are used for irrigating small areas of garden and lawn and the water is taken from the shallow, watertable aquifer (such as Perth's Superficial aquifer).
Garden bores generally do not require licensing because they are small bores, using a small amount of water compared with other licensed groundwater users, and they spread the take of groundwater if they are used wisely. Garden bore water doesn't usually require treatment because the water quality is fit for use on gardens and lawn, so they also help save treated scheme water for drinking and other human purposes.
You do need a water licence from the Department of Water and Environmental Regulation if you are in a proclaimed groundwater area and you:
use a bore to irrigate areas of garden and lawn of 0.2 hectares or more (2,000 square meters or more)
use a bore for commercial purposes, such as to grow produce or for industrial and mining purposes
take water from an artesian aquifer (such as Perth's Leederville and Yarragadee aquifers).
See our main website for more about applying for a water licence and garden bore licensing exemptions.